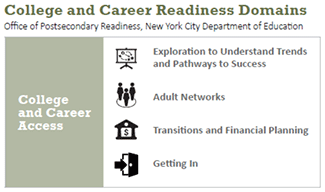 How can schools help students prepare for their future careers? Some schools have established promising practices to help students develop career readiness, but often this information is not documented or shared with other schools. This year, Eskolta is working with the Career Counseling Initiative, a program of the Office of Postsecondary Readiness at the NYC Department of Education (NYCDOE), to support the Career Readiness Fellows—27 teachers and counselors from twelve New York City schools who have been selected based on their interest and experience in sharing, investigating, and documenting their experiences with postsecondary planning.
Over the course of five sessions held throughout the 2016–17 school year, the Career Readiness Fellows shared established practices such as financial literacy seminars they have led, career day events they have organized, and panel discussions they have created with their alumni. The purpose of these sessions is to build community around career readiness, gather practices that educators can use in their own schools to support career readiness, align their work to NYCDOE College and Career Access domains, and document their learning.
Between sessions, the fellows engage in additional investigative practices—such as conducting interviews with students—with support from Eskolta facilitators. The process has allowed fellows to hone and deepen their understanding of existing practices. As Eskolta Senior School Design Partner Nicole DeFino shares, "Fellows have learned how to assess their work with students by designing exit tickets [quick in-school assessments] that gather both quantitative and qualitative information and how to analyze that information to improve their practice."
The process is not only contributing to a series of publications that will share practices, but also helping participants strengthen their own career-readiness practices. For example, South Brooklyn Community High School moved from hosting one career day to three in which they provide opportunities for mock interviews with professionals from different industries as well as seminars from Opportunities for a Better Tomorrow, a nonprofit that helps prepare young people for professional and personal responsibility.
Ultimately, by the end of the year, the fellows will have developed and shared a set of practical resources that will explain career-readiness practices and include downloadable materials for use in other settings.