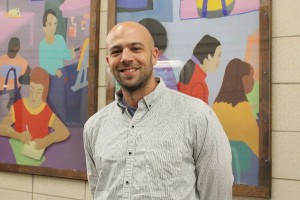 As part of Eskolta's inaugural fellowship, teacher leader Michael Wolach is honing his skills in project management, data collection and analysis, and design principles. Though this is his first foray in formally studying those skills with Eskolta, his exposure to our work goes back for some time. In the following interview, learn about Michael's history with transfer schools and Eskolta, as well as his reflections on the fellowship so far.
Tell us about yourself.
This is my thirteenth year teaching. I started off at the Community School for Social Justice and taught there for three years. Then, my principal and I had the idea to start a transfer school. We put together a proposal and opened the Jill Chaifetz Transfer School in 2007.
How has your relationship with Eskolta evolved over the years?
My introduction to Eskolta was through work they helped us with around curriculum development and professional development around data use. I also attended Eskolta's Transfer School conference, and we have developed a number of workshops at our school based on what we learned in the conference. Right now at our school we are working on teacher-counselor-student conferencing, so we have an Eskolta team member who comes and helps us set meeting agendas and document our work prototyping conference protocols and developing instructional resources.
Why did you apply for the Eskolta Fellowship?
I decided to apply to the Eskolta Fellows program because I know that anything Eskolta does is centered on school needs. I knew going in I was going to have the opportunity to learn and that the program would align nicely with the work I was doing at school. Having worked with Eskolta staff before, I knew that the quality of the learning would be top-notch. Currently I'm in charge of professional development at our school, so any professional initiative we have to do falls on my desk. This fellowship really was a blessing because I was able to merge what I was learning through the fellowship with my everyday work, whether that is a meeting protocol or a theoretical approach to piloting an initiative. I knew the fellowship would be relevant, well thought-out, and aligned with what my school needs.
What are you learning through the fellowship?
The design of the fellowship coincides with the 10-month school year. The facilitators organize the entire program around different phases of school design and change structures. We learn about the theory behind how school change happens. The last session was particularly compelling. We looked at different ways to go about prototyping in the field. The nice thing is that it's a small group, and we can share what we learn in our own schools and discuss how to move forward.
What do you hope to achieve through the fellowship?
What is amazing to me about the program so far is that it's very rare that you have an organization like Eskolta unlock their secrets to success. It's all about helping transfer schools improve. My hope for the fellowship is that it will give me a foundation for each phase of a design initiative and be able to have some resources and learning in place around that so it's not just learning by the seat of my pants but grounded in Eskolta's research methodology.
How has this been different from other professional development experiences?
What makes the Eskolta Fellowship special is the individuals who put it together. Eskolta builds trust through who they are, what they do, and their philosophy around making schools better. The beauty of the program is that the nuts and bolts of school change are grounded in theory and the facilitators ground their work in the actual schools. How things happen rests on the stakeholders, and that's a really special thing that you don't always get in professional development.