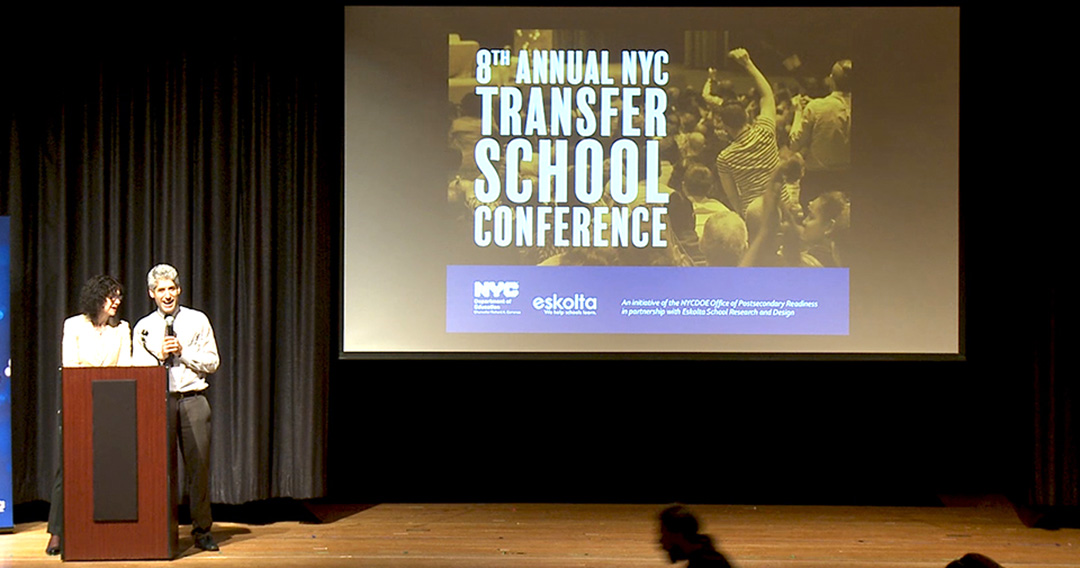 Each year in June, transfer school educators from all five boroughs of NYC come together to connect, share education practices, and take advantage of professional development uniquely tailored to the needs of their community. 2018 was no exception. Hosted by the NYC Department of Education's Office of Postsecondary Readiness (OSPR) in partnership with Eskolta, the Eighth Annual New York City Transfer School Conference, held on June 7, was the biggest iteration yet. More than 1,000 district and organizational leaders, teachers, students, and alumni participated, representing 37 transfer schools that together serve more than 8,000 high school students.
Conference hosts Lynette Lauretig, Senior Director of Multiple Pathways at OSPR, and Eskolta Executive Director Michael Rothman welcomed attendees and introduced Transfer Schools Superintendent Paul Rotondo and this year's keynote speaker, Dr. Noliwe Rooks of Cornell University. She recently wrote Cutting School: Privatization, Segregation, and the End of Public Education.
Dr. Rooks emphasized the importance of community voices as she opened her address with "Kings and Queens," a short documentary in which activist and grandmother Irene Robinson tells the story of the impact of a school closing on her neighborhood. A professor in Africana studies, Dr. Rooks explained the origins of the US public school system and how it has systematically disadvantaged students of color from the beginning. Connecting this history to the often problematic privatization of public education today, she warned, "When people who don't know you and don't care about you come to help, when they tell you 'I don't need to learn anything about you, but I'm here to fix you,'—it's time to run." Instead, Dr. Rooks urged listeners to be "clear about who's at the table and whose voices we want to lift up."
In that spirit, a popular session from the conference was a panel conversation with four transfer school alumni. Praising the strong support system she received at her transfer school, alumna Esmeralda Fanerte shared the impact of her teachers' words: "Hey, wake up. Do this for you. We're not here to point a finger; we're here to help you." The panelists commended their schools for giving them the space to make mistakes and grow. As Tyeema Valentine noted, "They could've let me walk out the door because I did break the rule. But they saw something in me that a lot of people never did." However, some panelists pointed out that after having experienced such a strong support system, "it was so hard … to learn how to do things on [their] own," and encouraged educators to prepare students for life after graduation better.
Over the course of the day, educators participated in 70 workshops, panels, and lectures on how to better meet the needs of transfer school students. Among those sessions, presentations on student-led participatory research about transfer schools, implicit bias and culturally responsive education, as well as youth-produced documentaries helped bring into focus underrepresented issues and perspectives.
The work of transfer school educators is one of continual learning. The Transfer School Conference continues to be a bright moment in the year bringing this learning to the forefront. We're proud to be a part of making this important work possible.