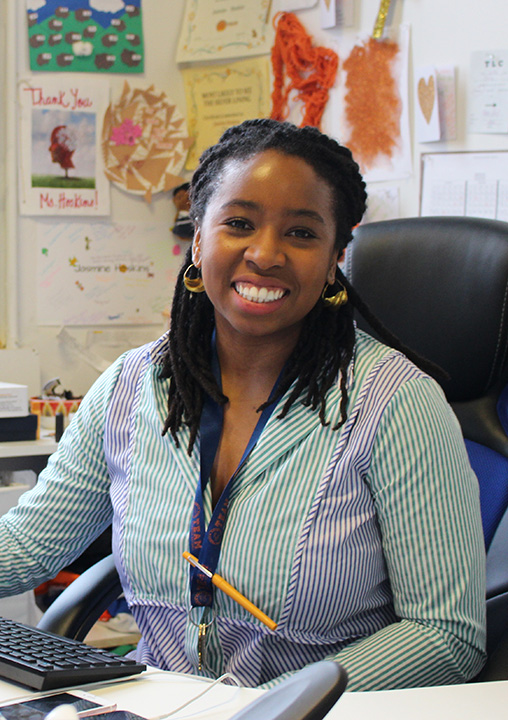 "If you took a snapshot two years ago, and one now, you can see that the way teachers are engaging with one another has changed a lot."
Agents of Sustainable Change
Jasmine Hoskins, 2017–18 Eskolta Fellow and Department Head, Urban Dove Team Charter School
Each year, a cohort of talented educators who have previously participated in our school design projects are selected as Eskolta Fellows. During their fellowship, they deepen their training in school improvement methods, exploring research and strategies rooted in participant-driven action research processes, and then apply them to their own school settings.
Jasmine Hoskins, the social studies department head at Urban Dove Team Charter School in Brooklyn, explains how she has used her learning as a fellow to change the landscape of collaboration in her school.
How did you apply what you learned as a Fellow to your work at Urban Dove?
I focused last year on inquiry teams, where, when we had our department meetings, we would alternate between having the grade teams together and then the content teams together. Sometimes we were looking at curriculum design, sometimes we were looking at data, but there was this space for people to talk about what they were doing and sharing and giving each other feedback and making changes.
I saw two science teachers talking to a Year Three math teacher, giving him feedback. That just made me so proud because we did not have that culture of collaboration before. Seeing that now we're in a space where our teachers can talk to each other and share ideas and recognizing that what they do is connected has made me really proud.
What are you looking to do next?
One of my goals is using small-scale data more. I want to figure out a way to export different data sets that are directly connected to the work that we're doing and see how we are able to look at that and analyze that more regularly, how that fits into our content team meetings, and how that fits into the check-ins between the instructional coaches and the teachers.